Soterrament
El soterrament ha estat una demanda social al llarg de la història, especialment per raons de seguretat.
Quan per fi es va anunciar la consecució del soterrament, l'Ajuntament es va posar a treballar en la forma de disseny d'allò que passaria a l'espai alliberat per les vies. En aquest sentit, es va apostar per un model de ciutat on els veïns i les veïnes tinguessin un paper actiu en la presa de decisions relacionades amb el Soterrament.
Per aquest motiu es va dur a terme al setembre del 2018 un procés de participació en el que es definien els requeriments de la ciutadania per incorporar al plec de condicions del Concurs internacional d'idees per a la urbanització de la superfície i la transformació de la ciutat.
Del Concurs internacional d'idees en van sorgir tres projectes finalistes, d'entre els quals la ciutadania va haver de decidir quin s'implantaria a la ciutat, mitjançant una Consulta Popular no referendària celebrada al novembre del 2021, i adreçada a tota la ciutadania de Sant Feliu de Llobregat major de 16 anys.
1 past process

No active nor upcoming processes
There are no active nor upcoming processes. Here is a list of the past ones.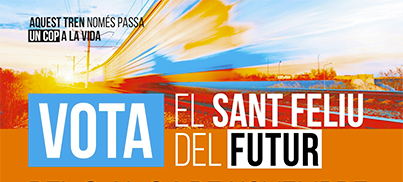 The burying of the road has been a historical claim in Sant Feliu de Llobregat since the recovery of...
Start date
28/09/2021

End date
31/03/2022